3xG: Green Internet, Green Tech, Green Generation
20 April 2021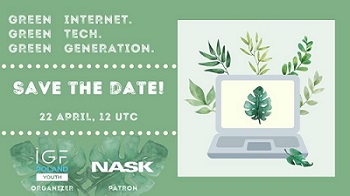 This Thursday, 22 April at 12 UTC, join us for the first in a series of webinars organized by Youth IGF Poland focusing on effective environmental and sustainability activities in internet governance. The event partner is PricewaterhouseCoopers.
During the meeting we will have a unique opportunity to listen to presentations by Ilias Iakovidis from the European Commission, Elisabeth Schauerman, a representative of the German Youth IGF, Lily Edinam Botsyoe from Hacklab Foundation and Youth IGF Ghana and Anjara Priandoyo from PwC.
Our guests will also be Anja Gengo from the IGF Secretariat and Anna Podgórska-Buompane from the Chancellery of the Prime Minister, who will present the assumptions of this year's UN World Digital Summit, organized in Katowice on December 6-10, 2021.
You will find more information about our experts on Youth IGF Poland social media channels.
We invite you to participate in the event and join the discussion about the Green Internet. Registration is conducted at https://intgovforum.zoom.us/webinar/register/WN_EH2iPkSlQxSye9A2ME3zCQ